If you're a busy professional with a demanding career, you probably don't have the time to head to the gym to sneak in even just a short workout. We know the struggle. But what if we told you that you can workout and work simultaneously? That's possible thanks to a handy desk bike! If you want to know more, read our complete guide to desk bikes here.
With a desk bike, you're giving your legs the action it needs to promote a more comfortable and productive working session. Not only that, but you can also live an active lifestyle while merely sitting on your office desk. In this review, we're going to digest the features and specifications of the MagneTrainer-ER Mini Exercise Bike.
General Product Information
Manufacturer
MagneTrainer
Model
ER (Extended Range)
Product weight
22 lbs.
Product dimensions
16″ x 16″ x 18″ (w x l x h)
Measurements Extended
Resistance Settings
Adjustable Magnetic Resistance
At the Maximum Setting the MagneTrainer provides:
Over 170 Watts at 60 RPM
Over 400 Watts at 120 RPM
Batteries
Single AA battery
At a cheap price of less than $400, consumers are wondering if the cost is due to the lack of desirable functions and features. But you'll be surprised how much the MagneTrainer-ER Mini Exercise Bike is worthy of a place under your office desk. Dubbed as the highest quality mini exercise bike available, the MagneTrainer gives you the capacity to exercise anywhere and anytime, whether it be in the office, while watching TV, reading a book, and more.
The MagneTrainer is bidirectional, meaning you can pedal forward or in reverse direction, enabling you to maintain muscle balance. Its wide resistance range and smooth pedal motion makes it excellent for physical therapy and can even be used to workout your arms, with its molded hand grips for safe and comfortable hand pedaling.
MagneTrainer-ER Mini Exercise Bike Features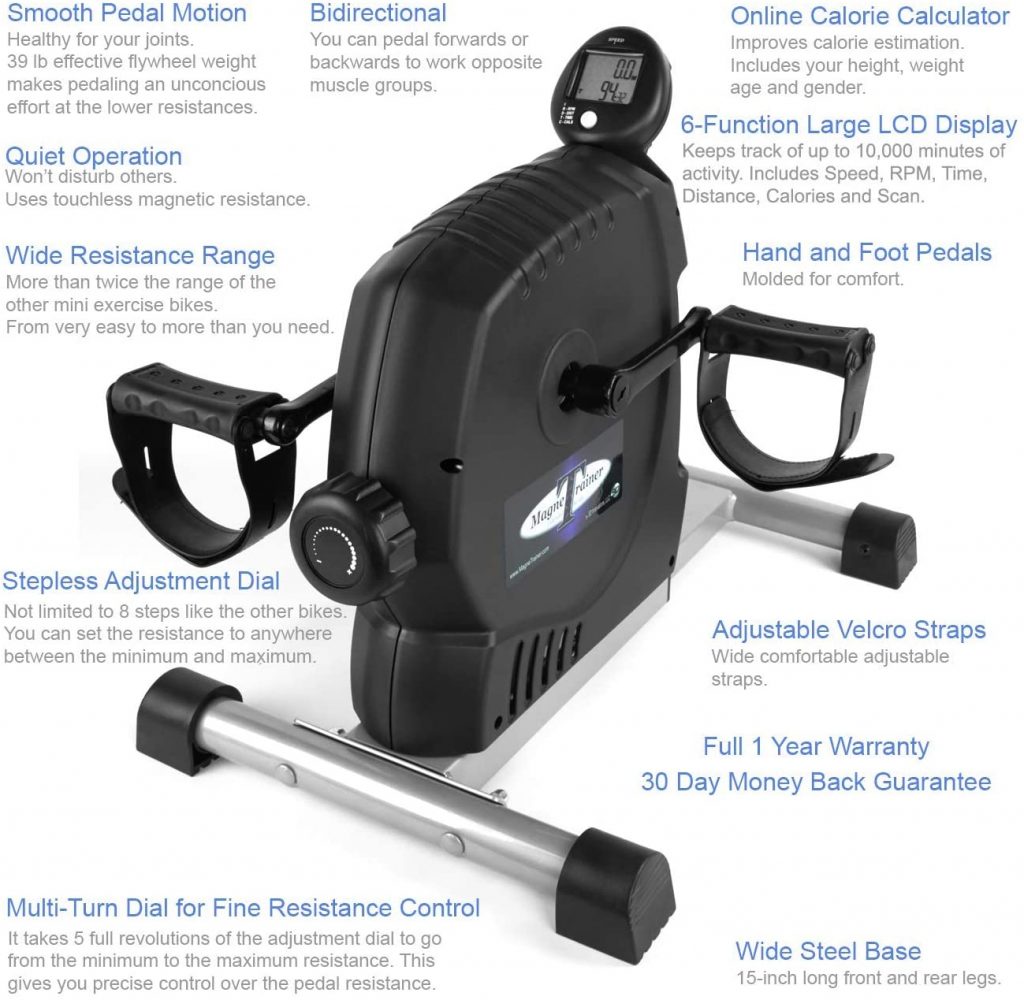 The MagneTrainer-ER Mini Exercise Bike might look simple and conventional, but it's surely a bang for the buck with its features. Let's take a closer look.
Patented Adjustable Magnetic Resistance
The MagneTrainer has a very smooth and almost effortless pedal movement both in forward and reverse directions, thanks to its patented adjustable magnetic resistance. The range of pedal resistance is nearly 3 times wider than that offered by other mini exercise bikes, and can be set to over 170 Watts at 60 RPM or 400 Watts at 120 RPM.
You can choose from a wide variety of resistance options by simply turning the knob situationally positioned in front of the bike. This multi-turn knob was engineered to provide precise and gradual control in setting the resistance, so you don't have to worry about setting the wrong range. Plus, there's no limit to the resistance level you prefer.
High Quality Pedals
Your security should always be your top priority when using an exercise bike. You might be thinking there's no harm in a mini desk bike, considering that you're safely seated on a chair. But that doesn't eliminate the risk of slips and injuries while using a low quality under-desk bike.
The MagneTrainer-ER completely eliminates the chances of injury with its high quality pedals. They are equipped with ball bearings and heavy-duty Velcro straps that can easily be adjusted to suit your foot or hand size.
Digital Fitness Display
With the MagneTrainer, you can keep track of your fitness goals even as you work. It comes with a digital fitness display that records your speed, distance, time, and calories. It also has an auto-on and shut-off feature to help save energy and conserve battery life.
Quiet Motion
Unlike other desk bikes that give out loud mechanical sounds while being used, the MagneTrainer is completely silent, which means you can even use it during a meeting without anyone knowing! The bike is equipped with patented touch-free magnetic resistance, dual-pulley and 7 precision sealed bearings, keeping it whisper quiet during use.
Where to Buy the MagneTrainer-ER Mini Exercise Bike
Users have ranked the MagneTrainer with 4.6 out of 5 stars, making it one of the most preferred exercise bikes in the market. Check the best prices on Amazon today.
The MagneTrainer is built to survive years of high-quality use. To guarantee that, a 1 year full warranty is offered for the parts, labor, and shipping. Plus, you can enjoy a 30-day money-back guarantee in case the device doesn't deliver as promised.