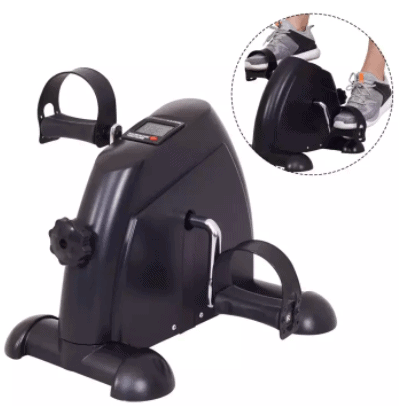 Our bodies are not made for staying in a single position for too long. When we sit in front of our desks for extended periods of time, we cause significant strain on our bodies. Moving around can help alleviate the strain and therefore reduce the chances of acquiring any sitting disease.
However, not everyone can afford to move around while they're at work. Numerous people have documents to sort through, meetings to sit in at, or deadlines to beat. Fortunately, there are exercise equipment available in the market that can help in encouraging more movement even when one is stuck in their office chair. One such product is the Jonluian Mini Pedal Stepper, an under desk cycle that can work your muscles without distracting you from your tasks. Let's take a deeper look into it.
---
About the Jonluian Mini Pedal Stepper
| | |
| --- | --- |
| Manufacturer | Jonluian |
| Model | Mini Pedal Stepper |
| Product Dimensions | 16in x 16.5in x 12in |
| Product Weight | 13lbs |
If you can't get away from your desk to take a walk even just for a few minutes, an under-desk bike may be an ideal item for you. An under-desk bike, such as the Jonluian Mini Pedal Stepper, can mimic the movement of walking or biking right at your desk. Take a look at its features below!
---
Benefits of the Jonluian Mini Pedal Stepper
It's not impossible to stay fit and healthy while you're at your desk job! With the Jonluian Mini Pedal Stepper, you can work on your muscles while working on your deadlines. Let's take a look at some of its highlights!
Compact and Portable
You don't need to have your own office or an enormous workspace to fit the Jonluian Mini Pedal Stepper in. Unlike regular bikes, this exercise machine is small enough to be stored under your desk. You can also place it in any corner of your home and you'll find that it won't be a bother at all. Its small stature also allows you to take it anywhere you like. You can pedal away in the office or cycle while watching TV, playing video games, and more.
Flexible Resistance Levels
Aiming for a casual workout? Or maybe you want a challenging exercise that can burn numerous calories? With this pedal exerciser, you can easily do either or both. This machine is equipped with a tension knob that you can use to adjust the resistance levels according to your preference. The lowest setting is ideal for beginners, people who want a light workout, and for people recovering from injuries. Meanwhile, the upper levels are excellent for those who want an intense workout.
The Jonluian Mini Pedal Stepper works not only on the legs but also the arms as well. If you're done with your leg exercise, you can simply place the machine on your table and tone your arms next. With its promise of offering you a full-body workout, you don't even have to go to the gym anymore.
Tracks Progress
The Jonluian Mini Pedal Stepper comes with a sizable LCD monitor that aids people in tracking their progress. The screen displays exercise time, distance, count (number of turns), total count, and calories burned. You can easily plan your workouts and monitor your development as you work towards your fitness goals.
---
Pros and Cons of the Jonluian Mini Pedal Stepper
Pros
Cons
✔ Includes adjustable pedal straps
✔ Compact and lightweight
✔ Can be used for both arms and legs
✔ LCD monitor to track progress

✘ Weaker weight capacity than others

---
What People Are Saying About It
Overall, the Jonluian Mini Pedal Stepper is a great exercise machine that you can use both at the office and in your home. You can get your heart pumping, blood circulating, and energy boosting without leaving your desk at all. This exerciser is worthy to be added to any workspace, especially if you want to improve your quality of life.
---
Where to Buy the Jonluian Mini Pedal Stepper
Ready to purchase the Jonluian Mini Pedal Stepper exercise machine? Head over to Lazada for the best deals and prices!
Eager to know more about other ergonomic products? Have a look at the best under-desk bikes in the market.
---
The Jonluian Mini Pedal Stepper is a compact and efficient way to stay active and healthy in the comfort of your own home. Its sturdy construction and adjustable resistance levels provide a challenging workout for your lower body, while its small size and lightweight design make it easy to use and store.
This mini stepper is easy to use, with non-slip pedals and a comfortable handlebar that ensures your safety and comfort during your workout. Its digital display tracks your workout progress, including time, speed, distance, and calories burned, allowing you to set and monitor your fitness goals and stay motivated to achieve them.