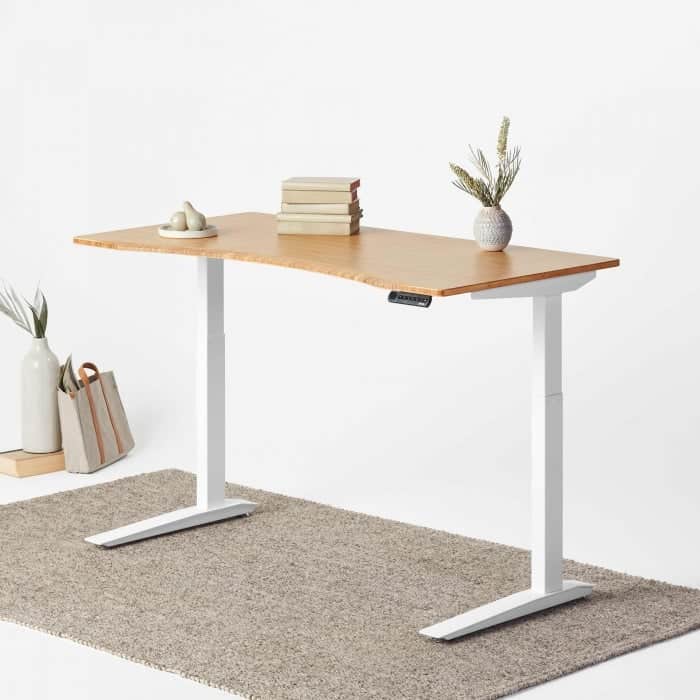 NOTE: As an Amazon Associate, Pain Free Working earns from qualifying purchases. This post contains Amazon links throughout.
Some people prefer working while standing over sitting down on a chair. Others like to switch between the two and try out different positions and postures. Standing while working might seem odd to you, but it actually has a lot of great benefits like reducing the tendency of back pain or neck injury. If you want to know more about standing desks, read our complete guide here.
To get all the consequential benefits of standing while working, it's required that the right standing desk is used. This is to ensure a right and ergonomic position while working. In this review, we will take a look at the highly-raved Jarvis by Fully Bamboo Top Standing Desk.
General Product Information
Manufacturer
Fully
Model
Jarvis Bamboo
Material
Made from sustainably grown and harvested Mao Zhu bamboo.
Tops feature European E1-level glues and German wear-resistant UV-cured top coat.
Dimensions
Comes in 3 sizes:
120 x 80 cm.
160 x 80 cm.
180 x 80 cm.
Tabletop thickness for all sizes: 2 cm.
Frame Colors
4 frame color options: Black, Silver, White, and Alloy
Height Settings
Mid Range Frame: 73.6 cm to 122.5 cm
Extended Range Frame: 62.2 cm to 127 cm
Adjustment Speed
3.8 cm per second
Item Weight
120 x 60 cm: 12 kg
160 x 80 cm: 20 kg
180 x 80 cm: 25 kg
Weight Capacity
158 kg
The Jarvis Bamboo Top Standing Table is the perfect choice for eco-friendly and crafty individuals. It's an award-winning desk, included among the top-ranking standing desks for 5 years in a row. Its elegant and aesthetic top is made from sustainably grown and harvested bamboo from the Mao Zhu variety, making it a very environmentally-friendly option not only for your workspace but for the planet as well.
Available in two shapes (rectangle and contour), seven sizes, and a selection of accessories, the Jarvis Bamboo standing desk can suit the needs and preferences of any individual building an active workspace.
Jarvis Bamboo Top Standing Desk Features
We're all pretty aware now about how aesthetically pleasing this desk is — but that's not the only selling point. The Jarvis Bamboo Standing Desk has a bunch of features that make it a must-have for any workplace setting.
Sustainable Bamboo Top
The tabletop of this particular Jarvis standing desk is made of sustainably grown and harvested Mao Zhu bamboo, making it a very eco-friendly piece of equipment. Bamboo releases 35% more oxygen than regular trees do, which means that your office desk has its own contribution to making the air in your workplace cleaner and fresher. As a plus, no pesticides or fertilizers were used to manufacture the desktop, and it is finished with a German wear-resistant UV-cured topcoat, making it more durable to suit daily use.
Wire Management Grommets
Nobody likes a messy desk with entangled wires obstructing your movement. The Jarvis Bamboo Top Standing Desk eliminates this problem with its Wire Management Grommets. These are strategically situated in the back left and right corners of the tabletop. With this feature, you can easily plug-in your computer and organize the wires in a neat and tidy manner.
Variety of Frame Options
For aesthetically-conscious individuals, we want our desks to match the overall color palette of the room. The Jarvis Bamboo Top Standing Desk will look good in any workplace or office with its neat and classic design. The desktop comes in two shapes: rectangular and contour, to suit your preference. You can also choose from four frame color options: Black, Silver, White, or Alloy.
The desk frame comes in either mid-range or extended range. Although the mid-range frame was already tailor-fitted to suit 85% of adults' heights, you can opt for the extended range frame if you want more variety in terms of desk height.
Handset Options
By now, you must have noticed that Fully, the manufacturer of the Jarvis Bamboo Standing Desk, has your preference in mind. With a vast array of options in terms of size, shape, frame, and color, you have the ultimate choice as to the look of your desk.
The Jarvis Bamboo Standing Desk is offered in two handset options: the standard up/down switch, or the programmable memory handset. The standard option is a simple, LED device that allows you to quickly adjust the height of your desk. On the other hand, the more advanced programmable memory handset features a display screen indicating the current height of your desk and auto-darks after 10 seconds.
It's about time to say goodbye to hassle whenever you want to adjust the height of your desk and switch from sitting to standing. With simple touch-screen navigation, you can select your desired height with ease in a matter of seconds.
Industry-Leading Lifting Capacity
Conventional standing desks only have a very limited lifting capacity. That means that you have to constantly be careful about putting too much weight on the desk, otherwise, it'll break. But with the Jarvis Bamboo Standing Desk, you no longer have to worry about the weight.
With an industry-leading lifting capacity of 158 kg, you can be confident that your desk can carry heavy-weight objects, giving you a safe and secure working setup.
Where to Buy the Jarvis Bamboo Top Standing Desk
If you're absolutely convinced about the quality of the award-winning Jarvis Bamboo Top Standing Desk, you can check the best prices on Amazon today. This product has an outstanding 4.8 out of 5 stars rating and holds a #52 rank in the Computer Workstations category.